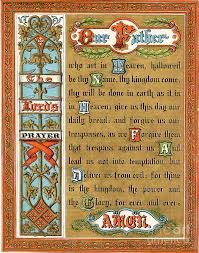 THE LORD'S PRAYER
The Lord's Prayer is a central prayer in Christianity also commonly known as the Our Father and in Latin as the Pater Noster. In the New Testament, it appears in two forms: a longer form in the Gospel of Matthew[6:9–13] as part of the Sermon on the Mount, and a shorter form in the Gospel of Luke,[11:1–4] as a response by Jesus to a request by "one of his disciples" to teach them "to pray as John taught his disciples". The prayer concludes with "deliver us from evil" in Matthew, and with "lead us not into temptation" in Luke. The first three of the seven petitions in Matthew address God; the other four are related to our needs and concerns. The liturgical form is the Matthean. Some Christians, particularly Protestants, conclude the prayer with a doxology, a later addendum appearing in some manuscripts of Matthew.
Source:  Wikipedia, 12/30/13, http://en.wikipedia.org/wiki/Lord%27s_Prayer
LORD'S PRAYER
Matthew 6:9-139 
After this manner therefore pray ye: Our Father which art in heaven, Hallowed be thy name. 10 Thy kingdom come. Thy will be done in earth, as it is in heaven. 11 Give us this day our daily bread. 12 And forgive us our debts, as we forgive our debtors. 13 And lead us not into temptation, but deliver us from evil: For thine is the kingdom, and the power, and the glory, for ever. Amen.
BIBLEGATEWAY, Authorized (King James) Version (AKJV)
http://www.biblegateway.com/passage/?search=Matthew+6%3A9-13
KJV reproduced by permission of Cambridge University Press, the Crown's patentee in the UK.
**************************************
Forgive us our trespasses, as we forgive those who trespass against us…
Forgive us our "debts"?  "sins?  "trespasses?"
Which is most accurate?
********
The Lord's Prayer, EWTN Network
Catechism of the Catholic Church
Section Two:  The Lord's Prayer "Our Father!"
**************************************
IN SONG
THE SONG OF LANGUAGES…
The Lord's Prayer in Indian Sign
Performed by John Denver
Performed by Ute Indian Royalty
Performed by Chief Shatka Bear Step
ASL American Sign Language
With Music
With Reader
 **************************************

REFLECTIONS ON THE LORD'S PRAYER
by Father Leo Clifford
YouTube, 7 min.   

**************************************
And don't forget…
The Lord's Prayer remembered in over 170 listings:  sheet music, engraved pendants, framed art, CDs, Hebrew versions, Elvis informal recording, banners…and more.
**************************************
AMEN…and AMEN!